Pragmatic Works believes that our employees are the key to our success. Our staff is made up of many extremely talented professionals who deserve to have their achievements and hard work recognized. Each month, we feature one of our stellar employees who often goes above and beyond the call of duty as a small way of saying thank you. Mitchell Pearson, a BI Consultant, is May's Employee Spotlight!
All About Mitchell: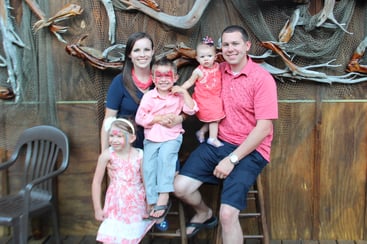 Mitchell is a Business Intelligence Consultant for Pragmatic Works. He lives in Yulee, which is just outside of Jacksonville. He is married and is the father of 3 young children. In his nearly 3 years with the company, Mitchell has continually looked for ways to advance his knowledge base. He's always looking to learn new things and often works extra hours to do so. Here are several comments from his colleagues who've noticed his dedication to learning:
"For someone that came from a background where they knew none of this to teaching our Master SSIS class in just a couple of years I think Mitch has achieved mastery. He's always looking for the next thing to improve on. Right now he's actually starting to master DBA skills which I've been really impressed with."
"I've personally seen Mitch put every waking moment into rapidly progressing his knowledge in all aspects of the Microsoft data platform, all while working on a long term engagement for a very demanding client!"
"Mitchell is always driving himself, at work and off hours, to learn what he doesn't know, expanding his breadth and depth of knowledge. He wants to understand everything about everything and he is such a quick study that he is certainly capable of doing just that. He loves his work and is always full of questions and driving himself to understand both the answer and the why's behind the answer."
Awards & Achievements:
- April 2015 Pragmatic Works' Achieve Mastery Award: This award is givien to an employee who goes above and beyond to expand their SQL knowledge base.
Mitchell Fun Facts:
1. He's a die hard FSU footbal fan.
2. He's insanely passionate about his hatred of mint and choclate being paired together.
3. Master of all things related to SSIS.
4. He is very savy when it comes to finances.
5. There's no 5th fun fact because according to himself, he's not that fun.
Want to learn more about Mitchell? You can follow him on Twitter or check out his blog where you can find many helpful posts related to SSIS.