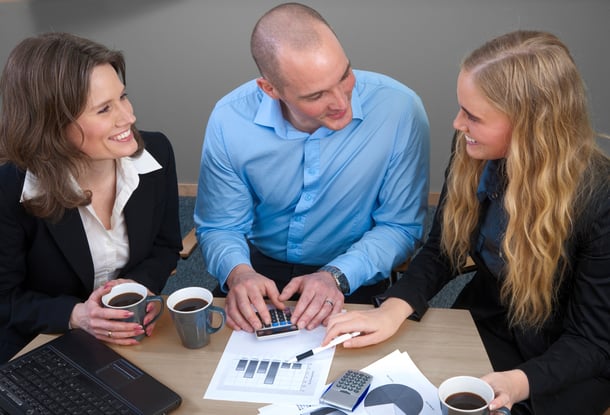 The sales game has changed vastly over the last 10 years!
Gone are the days where Sales Account Reps were the most critical component of educating the masses regarding their own specific product or service. Today, B2B customers have the luxury of doing their own research over the internet before ever having to engage with vendors. In fact, a report by the Corporate Executive Board states that B2B buyers are 57% of the way to a buying decision before they are willing to talk to a sales rep, and 77% of B2B buyers say they did not engage a sales rep prior to doing their own independent research (per a DemandGen Report). With this dramatic shift in buying behavior, it's become imperative that sales teams adapt to this change and modify their own approach to better assist customers in their decision making processes.
Here at Pragmatic Works, our Sales Team embraces this shift and focuses our efforts in 3 key areas: relationship building, solving our customers' business challenges and delivering outstanding customer service.
Pragmatic Works has had the privilege of working with thousands of customers and loyal webinar followers. Our Sales Team understands how valuable each of our customers are and works diligently to provide ongoing value to the relationship. Whether it be through complementary sessions with our Principal Consultants to educate our clients on emerging Microsoft technologies, sending along educational webinars that may be of interest, or showcasing the latest improvements to our software technology, our team understands that providing superior value to our clients is the most effective way to build long-lasting relationships.
Modern Sales Teams also recognize that customers don't necessarily care about all of products/services in one's portfolio. Customers want vendor partners to have the ability to assess the current technical/business challenges, and recommend a solution based on the specific need. By understanding all aspects of the customer's short-term & long-term challenges, a highly-performing Sales Account Manager should be able to build a "Solutions Roadmap" that provides a phased-approach in attacking the client's challenges, to ultimately improve overall operations of the customer's business.
Lastly, and most importantly, vendors need to make customer service the #1 priority. We understand that Pragmatic Works wouldn't exist if it weren't for our customers. Without excellence in customer service, you can't build relationships with customers or have their trust to discuss unique technical and business challenges. We place a heavy emphasis on providing timely, accurate responses to our customers' inquiries. Our Consulting Services Team works tirelessly to accommodate project scoping calls, produce scoping documents and ultimately deliver SOWs to our customer. Our Software Team moves mountains for our customers to accommodate product walk-through sessions at their request, even tapping company CEO Brian Knight when needed. Our Training Team is always available during training sessions to arrive early or stay late to ensure learning comprehension is high and attendees get the most out of each and every class. And last but not least, our Support Team is relentless in solving customer issues and boost a 100% close rate of cases.
Today, the sales process has become more of a strategic partnership between client and vendor, as opposed to the outdated approach of the vendor hitting the customer over the head with feature/function. By embracing this shift, Pragmatic Works' Sales Team has seen a steady increase in repeat customer business and has helped us become firmly entrenched as the Microsoft SQL Server strategic partner of choice for many of the world's largest, and most prominent, organizations. Keeping these three directions as priorities for your organization, will too will see a positive trend is returning customers and happy clients.