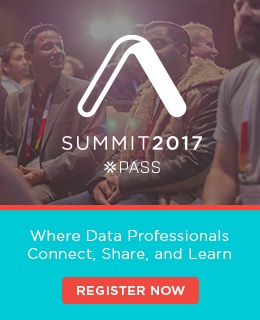 Pragmatic Works is excited to once again participate in the 18th annual Professional Association of SQL Server Summit (PASS) in Seattle, Washington. PASS Summit is the world's largest technical training conference for Microsoft data professionals to come together and gain access to the latest training and educational opportunities.
Technical sessions focusing on the Microsoft Platform will be available to participants and will cover a wide range of skill levels, from beginners to the highly advanced. From October 31st-November 3rd, technical purveyors from all over the world will meet to advance their skill-set and network with peers at this exciting event.
Adam Jorgensen, President of Consulting for Pragmatic Works, will be presenting an innovative session called, "Data Driven Digital Transformation." This session will guide people on how they can transform their company through immediately improving their data culture. Adam will also provide specific tips on how to gain influence within your organization to ensure that the company is receptive to these new ideas.
Pragmatic Works will be represented in booth #307, and will be conducting software demonstrations and providing information on our training and consulting offerings. Stop by to see all our innovative solutions and learn how we can help you improve your business' productivity and increase analytics.
Pragmatic Works will also be hosting our 6th annual SQL Karaoke event on November 1st from 8 p.m. - 12 a.m. at the Hard Rock Café on Pike Street in Seattle. Guests can watch their colleagues and friends sing along with a live band, and maybe even grace the crowd with a song themselves! This event is always the highlight of every PASS Summit, so be sure to stop by the Pragmatic Works booth (#307) to pick up your wristband to gain access to the party!
Here are some snapshots from last year's event:
We are excited to see you at PASS Summit 2017 and you can click here to register. Be sure to check out our On-Demand Training, and all the incredible courses we offer. Hope to see you there!