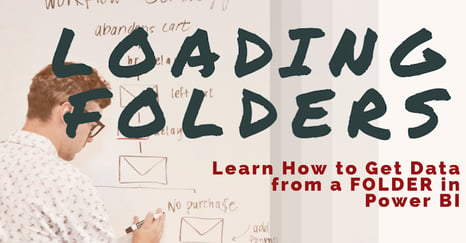 Power BI can connect to a plethora of different data sources. Did you know Power BI can also make loading multiple files at one time a cinch? There is an option from the Get Data icon for "Folder". Wait, a folder is not a data source, is it? Well, all the files in that folder are for sure data sources.
So what makes the "Folder" option something you need to know about? Do you get new files with the same column structure sent to you on a set time frame and then have to go and append them to your existing file? Have you ever found yourself appending multiple files over and over that have the same column structure? If you answered yes to any of those last 2 questions, then you are going to fall in love with the "Folder" data source.
Simply put, the "Folder" option allows you to bring in all of your files at once into Power BI. You will then make all of your transforms on one sample file and Power BI will automate the process across all the files of your choosing and append the files into one query. Do you remember the phrase "Set it and forget it!" from those infomercials about the Showtime Rotisserie back in the 90's? Well that's exactly what the "Folder" option allows you to do. You can set it and forget it 😉
In my demonstration, I show how to set up the folder option, how to filter out the files you want to load, and a best practice about duplicated records that I address at the end of the video.