We are excited for PASS Summit 2017 coming up this fall! Pragmatic Works has been involved with PASS for over 10 years! Our Founder, Brian Knight, was on the board in 2001 and we have had almost 50 speaker sessions at PASS Summit since 2008. We will be participating again this year, speaking and being out on the expo floor.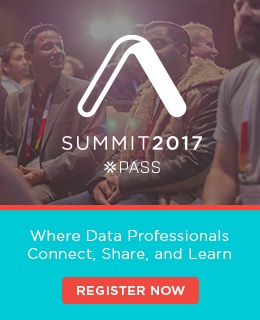 There are many great things happening this year at the Summit, from keynote speakers, a clinic from Microsoft and tons of awesome, new sponsors walking around ready to have conversations and help you solve problems. There will be a plethora of opportunities to learn about thought leadership, cloud content, developer and open source, content in training—to name just a few!
If you're looking to expand your data education and capabilities, grow your network and relationships - and maybe hit an awesome party or two (SQLKaraoke 2017!) – then you can't miss PASS Summit 2017! So, come visit us out on the floor; we love to talk data and about how we can help.
And here's a special gift for you! Use Adam's secret presidential code REFAJ100 and get $100 off your PASS Summit registration!
Once the Summit is over and you're pumped to learn more about the world of data, don't forget to take advantage of Pragmatic Works' On-Demand Training. We have the leading streaming training platform for data professionals, where you learn at your pace and at your convenience. All our content is the most up to date, especially for Power BI, where we update courses with every release of Power BI.
No other training platform can claim that – even Microsoft uses our training for their people.
We are excited to see you at PASS Summit 2017 and you can click here to register. Be sure to check out our On-Demand Training, and all the incredible courses we offer. Hope to see you there!