Pragmatic Works was recently named among the leading IT Service firms worldwide by Clutch, an independent technology research firm. We ranked as one of the top fifteen companies for the staff augmentation, cloud computing consultants, and big data analytics consultants categories.
The rankings are determined by Clutch's proprietary research methodology, which takes into account clients and experience, market presence, and client satisfaction. In order to get data on our ability to deliver, analysts conducted independently verified, case study-like reviews of our consulting services. The feedback was stellar.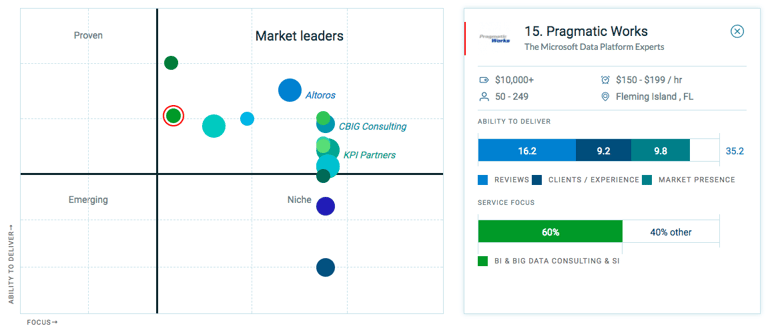 Analytics Firms Leaders Matrix
The IT director of a Texas-based natural gas company gave us this great evaluation on a data warehouse modernization project:
"The difference between Pragmatic and some of the other groups is that Pragmatic had a better vision of future business and technological needs and how best to prepare for that. I didn't want to redo anything in five years. I wanted to be as flexible on our architecture as possible right now to meet our needs five years from now. Pragmatic was more visionary than anyone else we talked to."
Check out another 5 star review:
Interested in our award winning consulting work? Please contact us to learn more.